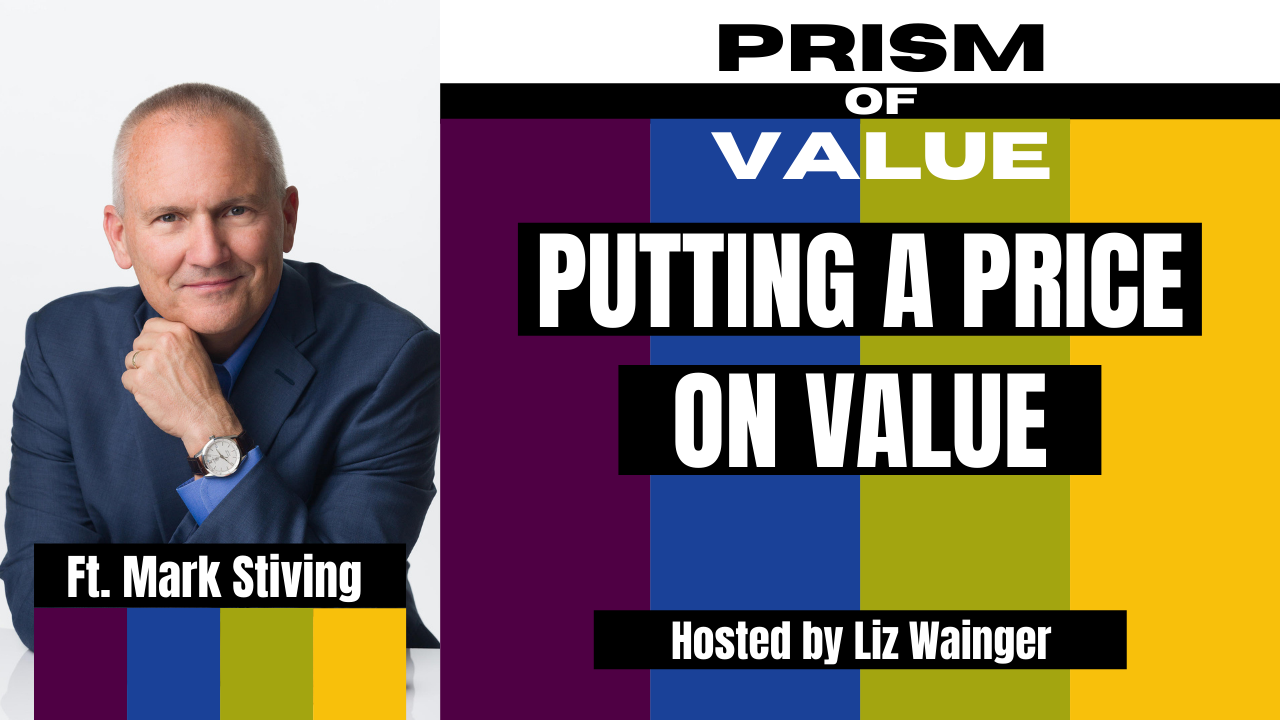 Whether we are a business or a not-for-profit, it is vital that our stakeholders understand and appreciate our value.  Mark Stiving, who helms a company called Impact Pricing, has spent a career studying value and how it translates into favorable pricing both for the seller and buyer.  In this edition of Prism of Value, we discuss the complex mathematical and psychological factors that affect how our customers, clients, and donors make decisions on what they will buy and how much they will pay for it.
Key Takeaways:
0:00 Intro
1:50 Mark defines what value-based pricing means
3:05 Mark talks about how solopreneurs can truly find out what someone is willing to pay
5:55 Mark talks about how you diminish your value when people ask for a lower price and you accept it
8:00 Mark talks about his perspective on value and how you should translate your product in features to get people to care
10:47 Mark explains how you have to think about the problems your feature has so that you can truly set an accurate value for yourself
14:17 Mark explains RFP's (request for proposals) and why to avoid them
17:53 Mark explains attitude plays a big role in pricing things and how you have to accept "no's"
19:31 Mark talks about the two halves of pricing, value and psychological
25:07 Mark talks about his approach to a clients webpage, and how he would view it as a customer and then approaches the changes from there
27:47 Mark explains to Liz how communications companies like her own can use his approaches to measure their success
Resources Mentioned:
Proctor & Gamble – The Procter & Gamble Company is an American multinational consumer goods corporation headquartered in Cincinnati, Ohio, founded in 1837 by William Procter and James Gamble.
Cisco – Cisco Systems, Inc. is an American multinational technology conglomerate corporation headquartered in San Jose, California. Integral to the growth of Silicon Valley, Cisco develops, manufactures, and sells networking hardware, software, telecommunications equipment, and other high-technology services and products.
CrowdStrike – CrowdStrike Holdings, Inc. is an American cybersecurity technology company based in Sunnyvale, California. It provides cloud workload and endpoint security, threat intelligence, and cyberattack response services
Predictably Irrational: The Hidden Forces That Shape Our Decisions – https://amzn.to/3mMqqqy
Win Keep Grow: How to Price and Package to Accelerate Your Subscription Business – https://www.amazon.com/gp/product/B097MY328L/ref=dbs_a_def_rwt_bibl_vppi_i0
Impact Pricing: Your Blueprint for Driving Profits – https://www.amazon.com/gp/product/B005DIBA4O/ref=dbs_a_def_rwt_bibl_vppi_i1
Guests Social Media Links:
Website: https://impactpricing.com/about-us/
LinkedIn: https://www.linkedin.com/in/stiving/
Twitter: https://twitter.com/MarkStiving