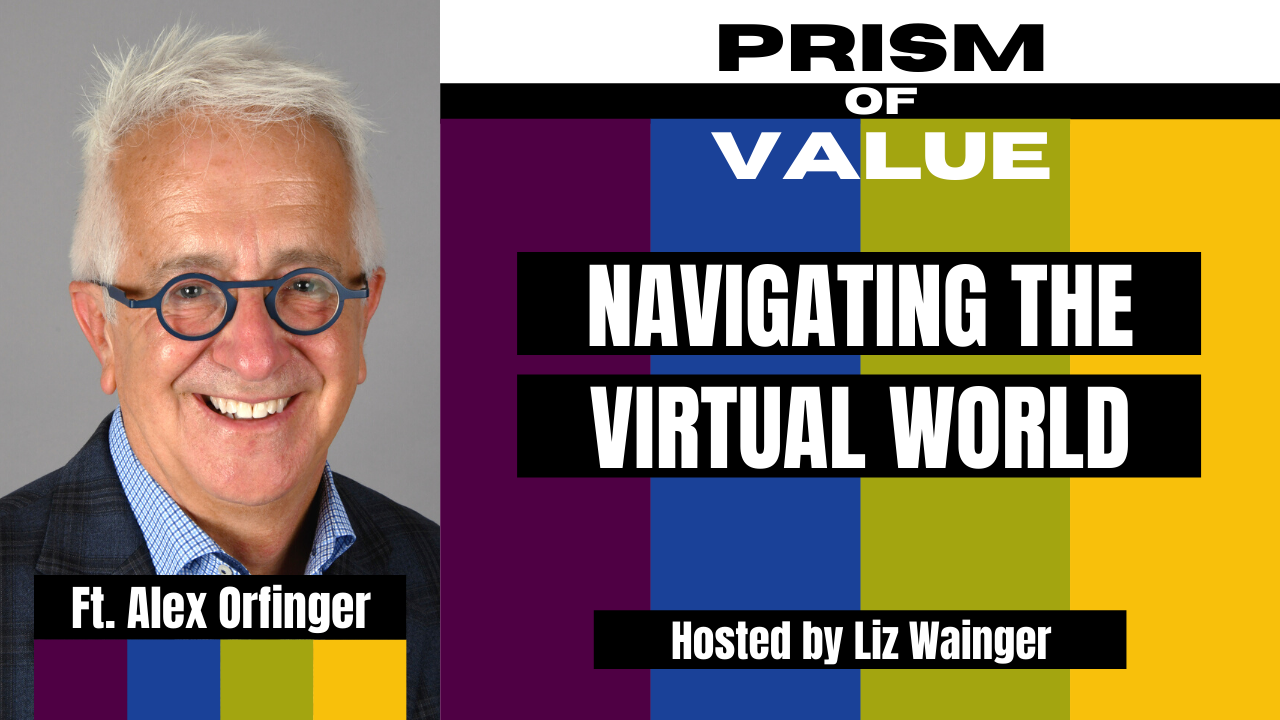 During the darkest moments of the pandemic, Liz Wainger spoke with Washington Business Journal publisher, Alex Orfinger,  for the Prism of Value podcast about how he navigated his organization was pivoting from in-person events to virtual. In this lively interview, he talks about how they connected with their subscribers in new ways, lessons are valuable as the world opens up.
To listen on your favorite channel, go here: https://waingergroup.com/in-the-news/podcast/
Key Takeaways:
0:00 Intro
0:43 Alex talks about the strategy they are using around events pre-Covid, events being an important part of Business Journal
1:36 Alex talks about the things that they started to think about differently after the pandemic hit and what they are also doing differently since they mostly depended on holding events
3:23 Alex talks about connection of people and some of the things that they did digitally to foster that connection
4:59 Alex talks about how they facilitated the virtual meetings and what they did to kind of get people to open up about what they are feeling and have the connection they need
7:48 Alex talks about how he planned and managed to create a sense of intimacy in the women humane business Zoom dinner that had 100 people last month
10:55 Alex talks about what he would do differently if he were to hold another Zoom call like that again knowing what he knows now
13:01 Alex and Liz share their thoughts on how to do a virtual business card exchange after doing a Zoom call which is a problem in a virtual meeting
15:34 Alex talks about how you can create experiences in a Zoom meeting or call that is very similar to when in person
17:55 Alex shares his thoughts on the revenue model for the virtual events versus the way he had thought about it before
21:30 Alex talks about the book release as their big events and how they are going to be planning for them virtually nowadays
22:16 Alex talks about the things that he now knows that he wished he had known in the beginning of the pandemic
23:52 Alex shares his advice to all people and especially to the business people
Shows Mentioned:
The Economic Development 40 Under 40 is a list of 40 individuals who have achieved success in economic development before turning 40 years old.
Business Journals Leadership Trust: America's top resource for local business news and an invitation-only community of business leaders.
Zoom is a videotelephony proprietary software program developed by Zoom Video Communications. The free plan provides a video chatting service that allows up to 100 concurrent participants, with a 40-minute time restriction. Users have the option to upgrade by subscribing to a paid plan.
Print media is a varied landscape of advertising opportunities. This category includes newspapers, magazines, direct mail, flyers, door hangers, and catalogs. These media offer the ability to present your brand, product, or message to an audience in a way unlike any other venue.
Quotes Mentioned:
"Since people were going to be sitting at home, they had a need for information on how to really navigate through the business gap through this pandemic."
"People always say, it's so much better in person."
"During the pandemic, people needed a safe space to talk to one another, to talk about the layoffs they were confronting, to talk about the cash crunch that many more people were facing."
"Part of the secret of the success of a Zoom call is planning, thinking about what your purpose is and also not taking it for granted that it could just happen on its own."
"You have to think about what you're trying to achieve in a Zoom session."
"People don't like to eat on Zoom."
"There's something on Zoom that actually works better than in person."
"When people are in a group that they really do care about, that has meaning, that it's not just like a pass through thing, they are more present and more available and they actually share more."
"Everybody's dying for some intimacy."
"Stay true to yourself and stay true to your mission."
Guests Social Media Links:
LinkedIn: https://www.linkedin.com/in/alexorfinger/
Personal Website: http://alexorfinger.com/about-alex
Email: [email protected]
Company Website: https://www.bizjournals.com/washington/bio/1/Alex+Orfinger+