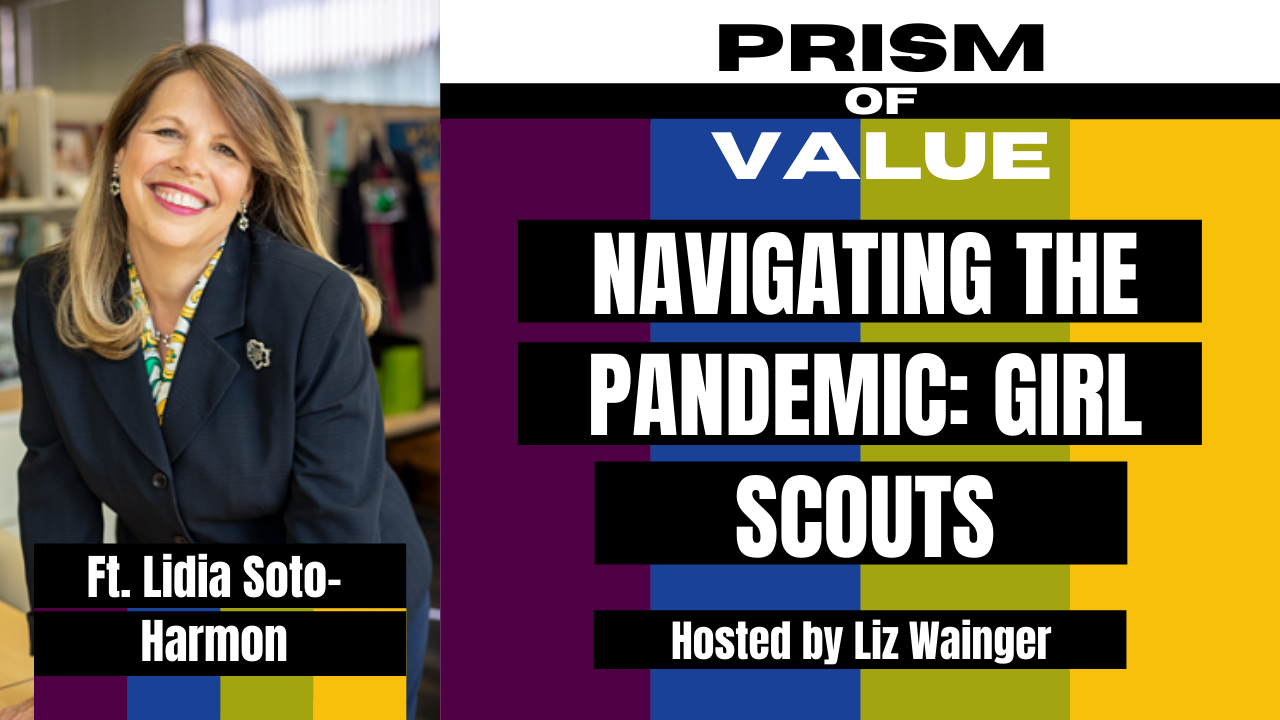 Lidia Soto-Harmon is a connector, and the pandemic didn't slow down her efforts as CEO of the Girls Scouts Nation's Capital (the largest chapter in the country to bring the thousands of girls and troop leaders together for meaningful and important connection.  Full of optimism, inspiration, and practicality, Soto-Harmon and her team successfully pivoted to virtual events and communication. And as we all continue to deal with uncertainty, Soto-Harmon offers some valuable lessons and insights for all of us about staying connected and engaged in this edition of Prism of Value: Navigating the Pandemic.
To listen on your favorite channel, go here: https://waingergroup.com/in-the-news/podcast/
Key Takeaways:
0:00 Intro
0:56 Lidia shares a little bit of history about Girl Scouts in Nation's Capital and also what they do
2:40 Lidia talks about how she was able to put up a Camp CEO in the Women's Advisory Board during the pandemic and made it meaningful both to mentors and those girls
4:45 Lidia talks about how they pivoted internally during the pandemic and how they were communicating out to the people on what they were doing to the girls
7:48 Lidia talks about the advice that she provided to the troop leaders to keep the girls socially engaged since at the age they are in, it's hard for them not to be social
10:59 Lidia talks about the things that she is proud of that they did during the pandemic in terms of empowering young women and building a community
13:56 Lidia talks about the lessons that she learned during the pandemic and also things she now knows that she wishes she had known before the pandemic
16:45 Lidia talks about how being in the pandemic has changed her as a leader and what it is that has changed
19:31 Lidia talks about how she shifted and able to evaluate that work was being done in the right way given that everything was now virtual
21:54 Lidia also talks about the exciting things that she is really looking forward to when everything reopens after the pandemic
23:27 Lidia talks about how the pandemic in terms of the lockdown has taught people not to be taking people and relationships for granted and being intentional about everything
25:30 Lidia talks about the different Girls Scout cookies that they have and also talks about what her favorite cookie is and why
28:18 Lidia talks about Camp CEO of this year and what it will be all about and also talks about mental health and why we need to give ourselves space to breath
Shows Mentioned:
The Syrian Women's Advisory Board (WAB) was established by the Office of the Special Envoy in January 2016, in partnership with UN Women and with the support of the UN Department of Political Affairs. The core idea behind the WAB is to ensure diverse women's perspectives and the gender equality agenda are considered throughout the political process and at key junctures including when peace talks are convened in Geneva.
Camp CEO is a weekend leadership retreat that connects high school Girl Scouts with accomplished female professionals through teambuilding and skill sharing in a relaxed camp setting. Girls will have the opportunity to learn leadership and life lessons while the women mentor and inspire the young leaders of tomorrow.
Zoom Cloud Meetings is a proprietary video teleconferencing software program developed by Zoom Video Communications. The free plan allows up to 100 concurrent participants, with a 40-minute time restriction. Users have the option to upgrade by subscribing to a paid plan.
Samoa Girls Scout cookies are crisp cookies with caramel, coconut, and dark chocolaty stripes.
Quotes Mentioned:
"In times when there's a crisis, you need to over-communicate."
"We have to all sort of learn to have grace."
"Uncertainty is very anxiety-producing."
"Give yourself a little more grace in times of uncertainty."
"Organizations that haven't learned that lesson and are not willing to be flexible are going to have a more difficult time hiring quality folks."
"We all need to be measuring impact and measuring work product rather than time."
"We just need to take a moment and be present and recognize that we have just come through a very difficult period in our society, in our time, and that we do need to make sure that our mental health matters that we're giving ourselves that space."
Guests Social Media Links:
Website: https://www.gscnc.org/
LinkedIn: https://www.linkedin.com/in/lidia-soto-harmon-a921a213/
Twitter: https://twitter.com/LidiaSotoHarmon
Facebook: https://www.facebook.com/lidia.sotoharmon.1
Instagram: https://www.instagram.com/lidiasotoharmon