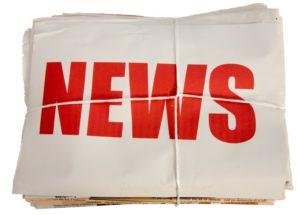 5 Things You Should Never Do in a Media Interview
As we approach spokesperson training and media relations, our clients frequently tell us that they don't want to do media interviews because they are always misquoted and the media is "out to get them."  While there may be cases where it feels like your company or nonprofit is mistreated (and reporters sometimes do make mistakes), most often these unpleasant encounters are due to folks simply not understanding how to work with the media.  Below are five missteps to avoid in any media interaction.
WING IT
Would you walk into a major sales presentation without knowing anything about the prospective client? Would you buy a car without having researched its features?  Probably not.  So why would anyone walk into the high-pressure media interview without having thought through what you want to get across and the tough questions that might be coming?  And why would you go to that interview without checking out what the reporter has written about your industry in the past and finding out a little about his or her background?  There is no excuse for the uninformed interview–especially with Linked-In, Twitter, or Google News at hand.  Understanding where the reporter might be coming from and what they are interested in will help you frame your messages in your responses.  Being clear about what you want to say and what you DON'T want to say will make it easier for you to respond to questions.  And feel free to ask for a little time to get back to the reporter. (Then return that call or email as agreed!)  Except in dire circumstances, a simple request for a little time to clear your schedule will be honored.
ASSUME YOU ARE OFF THE RECORD
When a reporter calls you, you are on the record from the minute you start talking.  In the case of television or radio, if you agree to be interviewed, expect that you will be on camera or on the airwaves. If you aren't comfortable with that, don't do the interview.  And if you DO decide to go off the record (and this is something to do with great care), make sure you know the reporter and that you define the terms of "off the record" before anything is said.  For more information on how to go off the record, check out this post. http://bit.ly/16o5JBV
EXPECT THE REPORTER TO TEASE OUT OF YOU THE MOST IMPORTANT POINTS
One thing that always surprises me is the passivity of both reporters and sources.  Reporters often aren't sure what their story is and are unprepared for interviews.  Sometimes they start with a non-question such as, "Tell me about your product," or "What is this event all about?"  I've seen many a client stumble over a generalized question because they aren't sure where they should go with their answer.  If you've prepared in advance for the interview, then you should use this opportunity to speak to your key messages.  Sometimes, the non-question is used as a way to flesh out information with sources babbling on. Disciplined messaging will take of that.
SPEAK LIKE A ROBOT WITH LOTS OF JARGON
"Our state-of-the-art technology platform integrates best-in-class, high performance practices to deliver robust solutions to our clients making us the leading provider of mission critical IT services."  I have no idea what that means, but whoever talks like this ought to record it and sell it as a sleep aid.  When talking to a reporter—or anyone for that matter—speak in simple, clear language.  If you aren't clear, then the reporter may fill in what they thought they heard and then your company or nonprofit is incorrectly portrayed.  This is particularly challenging for enterprises involved in technical matters.  Find a spokesperson who can translate complicated information into material easily understood by outsiders.  We aren't computers, so there is no need to speak like one
ASK TO SEE A COPY OF THE STORY BEFORE IT RUNS
While there are some publications that will share copy with you, the majority of true journalists will not.  They might check the quotes or particular facts that you gave them, but asking for the story in advance will peg you as an amateur.
Media interviews can be intimidating but avoiding these five mistakes will make the outcome more successful for you and your organization.