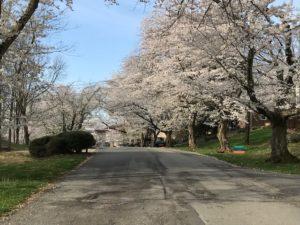 As the cherry blossoms on my street hit their peak a few days ago, it made me think about how similar these beautiful trees are to the businesses we are growing every day.   For more than 50 years, thanks to the civic-minded spirit of my neighborhood's first residents, these trees have shaded my street.  They've also endured a great deal of stress over the years: soaking rains, hurricane-force winds and indiscriminate tree trimmers from the electric company.
Sometimes a cold snap delays the big event and sometimes an early warm spell hastens the arrival of the puffy pink popcorn blooms. But whether early or late, they arrive each year without fail, delighting us, inspiring us and engaging us. They are consistent. And that consistency has paid off, making my neighborhood more attractive to would-be buyers.  More broadly, cherry-blossom time is good for our region, bringing hoards of tourists and good cheer to the Tidal Basin.  Hotels are full, restaurants are crowded and cash registers ring up lots of sales.
Just like the blossoms, our businesses shoot for consistency, despite the storms of unpredictable crises. We lose the big client or the grant we thought we were going to get doesn't materialize.  Those of us with staying power soldier on, figuring out how to navigate the uncertainty.  We understand what our value is and we nurture it carefully.
Just as those resilient cherry trees dig deep for water and minerals, successful businesses reach for the nourishment they need to thrive. They stand tall, even when things look bad. They ready themselves for good and bad times, and when the moment is right, they bring out their best.
The cherry trees have a strong brand, easily understood and admired. And that brand helps ensure their survival by fostering loyalty and protection. We care for these trees because we value their beauty, their resilience and the symbols of friendship, renewal and hope they embody. They matter to us. And we make sure to protect them, even in the toughest of times.
Is your brand as clear and enduring as that of the cherry trees? What do people value about it? Are you able to articulate that value?  Could your customers, clients or supporters easily describe it?  Understanding and communicating that value is essential to creating a resilient enterprise, ready to weather change. If you can't say why you matter, or if you clients don't get you, it may be time to stop and smell the cherry blossoms.
Find out how well your brand is understood inside your organization and outside by taking this quick Clear Sky diagnostic.
Learn more about Wainger Group and how we can help you discover and communicate your value.  And watch for my new book, The Prism of Value: Convince, Connect and Influence When It Matters Most due out later this year.