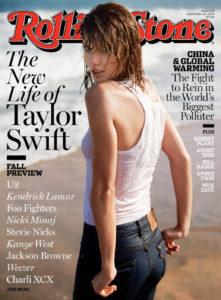 An article in The Washington Post that caught my attention this week chronicles Taylor Swift's brilliant lead-up to the release of her next album. In keeping with our spotlight on branding this week, let's look at this as a story about how to fortify an already powerful and strong brand.
Swift and her team waged a thoughtful PR campaign for the release later this month of her pop album "1989."  The PR blitz began with an interview in Rolling Stone, where Swift let drop that one of the songs deals with a rocky relationship. The "hint" set off a storm by fans guessing which ex-boyfriend that might be.  In the aftermath, Swift graces magazine covers, does TV interviews and then slow-releases one song at a time to create the kind of frenzied anticipation that fuels record sales. She and her advisors understand the authenticity of her brand—being true to one's self, being honest, and sharing life struggles with her fans. Her brand is that of the everywoman, not that different from her fans.
So what are some lessons from the voice of Taylor Swift?
Integrity and Transparency in Branding
Strong brands consistently live their values and beliefs.  They don't just tell you, they show you each and every day.  Taylor Swift's roll-out reinforces her brand of honesty and humility. Her fears and hopes are on display in every song and in every interview.  What you see is what you get, even when she missteps.
Experience
Great brands create powerful experiences for their customers. Taylor Swift draws her fans into her life and actions. Sharing one song at a time let's fans in on the secret of the new album and keeps them engaged in a conversation with the singer. (A company that does this well is McCormick.  The legendary spice label provides ways for customers to share their flavor palette and get recipes and advice on how to use the company's products to create dishes that fit their tastes.)
Bring Your Audience Along for the Ride
The "1989" album roll-out lets fans in on some secrets.  It plays out in a story that has a beginning, middle, and yet-to-be-experienced end. And it holds your interest by revealing more and more of that story over a sequence in time.
Whether you make it easy to shop and donate to your favorite nonprofit as Amazon does, whether you play with holiday-happy polar bears as Coke does, or whether you unfurl new music needle-drop by needle-drop, ala Swift, the best branding efforts make connections, maintain consistency, reveal authenticity, and/or promote an experience—with the customer always front and center stage.