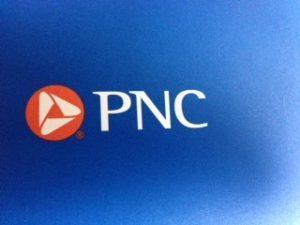 Why I Love PNC
In this day of impersonal "press 1 for more options" customer service, PNC Bank really does stand out.  They've made it a competitive advantage to provide the best in service – and they really do.  I switched banks about six months ago because I got tired of the unfriendly treatment I got at the big, global bank I had been with for nearly 20 years.  I actually would get angry every time I went into the branch to deposit a check because there was always a line and it was difficult to talk to someone unless they were selling you a product you didn't want.
Standing in one of those long teller lines at the big, mean bank, I met a woman who banked at PNC and talked about having a completely different experience.  She kept talking about how her banker would never have allowed her customers to stand in a line like that (she was only there to cash a check that had been drawn on her non-native bank).   She seemed to have a relationship with the banker and I was impressed.  So after being mistreated one too many times by big mean bank, I switched.
PNC's people are fantastic. In every branch, the experience is the same—they really focus on the human touch.  One shortcoming:  their technology platform is a bit behind the times and I experienced some frustrations getting my accounts to work online and then again when I had to open all new accounts after my wallet got stolen. But the personnel at PNC went out of their way to solve them. Here are some lessons from PCN's actions:
Respond – People actually responded to my emails and phone calls.  And one time when I had a bad experience—I called the Pittsburgh office to respond to a letter and the person on the phone said she'd never heard of the person who signed that letter—a Team Leader called apologizing for the mistake.
Acknowledge that there is a problem – Everyone I spoke with acknowledged that the problem I was having was real and something they are working to address throughout their system. They were honest and forthcoming about a shortcoming.
Act – The Pittsburgh team leader went beyond saying, "I'm sorry." He told me he pulled the call and is going to work with the manager of the employee who took my call to give her the training she needs to do a better job. 

No punishment, just coaching, to make their service more responsive to customers. That is impressive.

Listen – Throughout all of the problems I had, I always felt that people were listening to me and that they really wanted to help. Even though the inefficiencies of the technology platform were maddening, I felt that my business mattered to them and I appreciated that.
So, PNC, please bring your online banking platform into the 21st century and keep up the great work on the people side.  The companies who consistently master both high tech and high touch will be the winners in the long run.