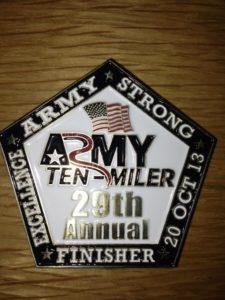 As I hit the mid-point of the Army 10-Miler race, with breathtaking views of the Washington, DC, monuments honoring Jefferson, Lincoln, and Washington, I was struck by how running a long race is a lot like creating an effective communications campaign.  Pulling off an event with more than 35,000 people, spanning two local jurisdictions, and featuring a host of sponsors does not just happen by accident or whim. And neither does a communications effort that hits the mark.  As communicators, we can learn a lot from the planners of the Army10-Miler.
Plan.
Imagine if the race organizers said, let's do a race for 35,000 soon, and then just started calling potential partners or local jurisdictions without any plan and clear sense of what kind of event they wanted to create.  Yet, in too many companies and organizations, that is exactly how communications efforts are created.  The conversations will start something like this: "Let's contact this reporter—she seems interested in these issues… Let's create a new Facebook page and post our information… Let's do an event…."
Every good campaign starts with a good plan that articulates the audiences to be reached, the goals to be achieved, the messages that will support the effort, and, finally, the best means or vehicles to deliver the campaign over a period of time.
Train.
If I had tried to go out and run 10 miles without having done the proper training and conditioning, I would have been in a world of hurt (as opposed to the mild aches and pains I experienced). Companies and organizations, too, end up with damaged ambitions and even reputations when they don't prepare well enough for their campaigns.
Training in this sense means making sure you have the capacity on your website, and/or sufficient in-house teams or call centers to field customer inquiries based on your campaign.  No one wants to go to a website that crashes or get put on hold for painful amounts of time.  That kind of treatment makes your customers or users angry.
Training also means making sure that everyone involved understands the effort well enough to speak about it knowledgeably.  How many times have you responded to a special promotion, only to go to a store and find employees who aren't aware there is one, or if they are, don't really understand it.
Communicate.
The organizers of the Army 10-Miler did a great job of explaining what the race would involve, and specific rules for engagement (when, where, and how to pick up race packets, what to bring on the course, how to get there, course maps, etc.)  And they used multiple means to communicate:  sending emails with bib/registration numbers, delivering relevant information on their website, readying a colorful brochure for the packets, and, on race day itself, posting good signage and stationing helpful people throughout the site to guide you on the way. And kudos for information delivered in clear and simple language.
Inspire.
Although I am not in the military, for the time I was participating in this race, I felt the pride and patriotism of our men and women who serve our country so bravely.  It made me proud to be part of their world for just a few hours.  From the military bands, to the slogans, to the singing of the National Anthem, the event evoked strong feelings and left an indelible impression—a brilliant reminder that the most effective communications taps into our deepest emotions.  When we connect on an emotional level, we can inspire people to act—whether it is to join our cause or buy our product.
I've run in dozens of races.  But this one was truly unique because of its powerful messages and emotion.  And underneath it all was careful planning, training, and effective, extremely motivating communications.  Hooah!