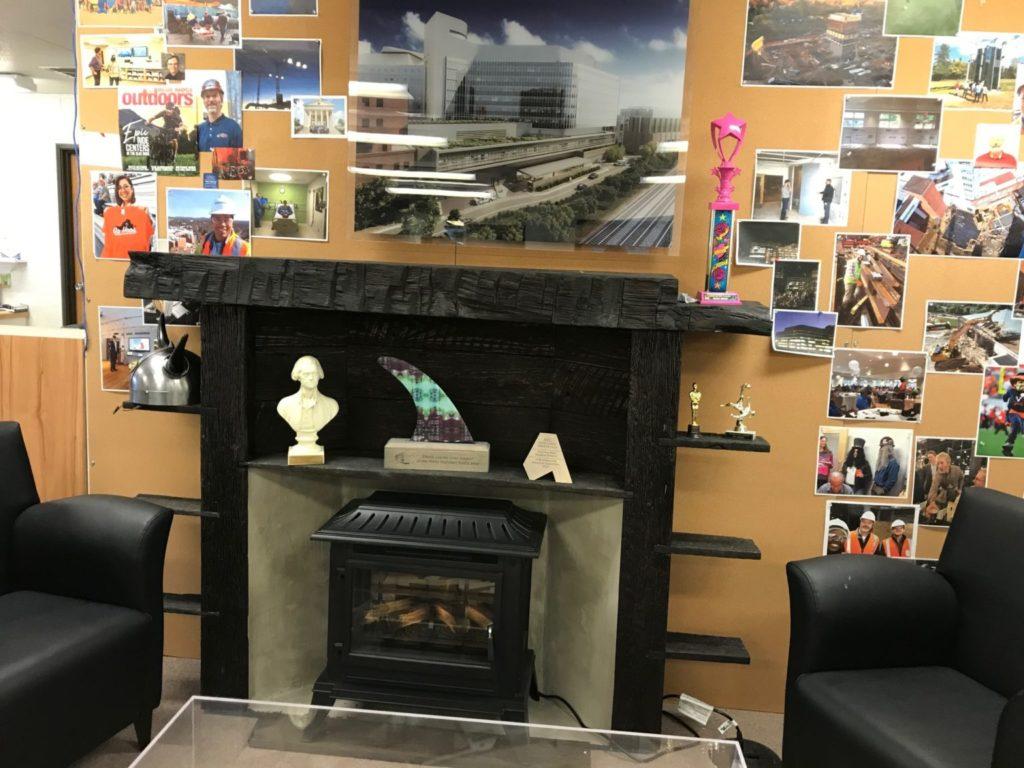 When most people think about great work cultures, they wouldn't necessarily go looking for one in a construction trailer.  But a recent experience while on a video shoot documenting the UVA Hospital Expansion and New Bed Tower in Charlottesville, Virginia, showed me otherwise.  My two days in "The Big Room"—six trailers put together to house the architects, owner and building contractor—was a powerful lesson in creating a safe workplace where team members pull together, especially when challenges arise.
In one instance, while the teams were burying a 50,000-gallon water tank that would capture water so it could be reused for heating and air conditioning, the building contractor realized that the area for accommodating the tank and the construction worker who would guide it into place was dangerously small. Because the teams were in the same location and trusted one another, they were able to come together to figure out a solution in a matter of days. Had the team had to rely on emails and phone calls back and forth, people traveling from different offices to meet, it might have taken months.
How did they build such a successful culture?
Shared Vision – Everyone on every team was committed to the project and doing what was right for the project. This was a value that the teams agreed to from the beginning and that shared vision and clear understanding of each role in working towards this common vision drove the project.
Commitment to Collaboration – It was clear that this was to be a "no silo" zone and everyone on the project agreed that this would model their behavior. Because everyone on the team bought in to the same vision, they were also committed to collaborating.  And the driving principle always came down to, what is best for the project?
Proximity Matters – A hallmark of The Big Room concept is that the various project teams co-locate. That proximity lets people understand each step of the project in real time.  But it's not enough just to be in the same place. It also means paying attention and stepping up appropriately.  As Chris Hoy, the UVA Owner's representative onsite says, "I see things, I hear things, I feel things and I know things."
Building Trust Matters Even More – Building on co-location and proximity, the combination of shared vision and commitment to work together allowed the team to develop the necessary trust and respect to solve tough problems. The teams invested in getting to know each other to work through disagreements and differing work styles. Everyone had a voice and the team was committed to hearing each other out.
Accountability – Every member of the team is accountable to their part in delivering on the vision but also to each other. There was a powerful sense they would be letting others down if they didn't perform well individually.
Celebration of Each Other and the Project – While not the most aesthetically pleasing environment—it is, after all, a construction trailer—one of the most striking aspects of the Big Room is the fake fireplace with an adjoining wall covered in pictures of various team members experiencing life and professional events. There are pictures of team members with their first grandchildren, at weddings, playing sports and just hanging out with each other—and yes, beer was involved.  Built into the team's collective DNA is a passion for celebration and a genuine interest in each other.  And that builds the trust and feeling that they have each other's backs.
As the project nears its conclusion, the success of the collaboration is real. The team has met every milestone and boasts a stellar safety record for the more than 5,000 people who worked on this project over five years.  Proximity, a shared vision, collaboration, trust, accountability and celebration all come together to refine a workplace culture that each member of every team will take with them to the next project. The result is a model for an enhanced workplace culture that drives greater satisfaction in getting the job done right—and making it better than before.